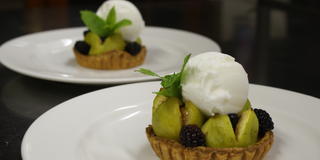 Start your day with our renowned Continental breakfast and/or choose warm from our à la carte menu for something more substantial whilst absorbing the beautiful surrounding scenery.
Lunch is served daily from 12:00 until 15:00 from our seasonal à la carte menu from the Bistro, incorporating the best local produce and prepared for your pleasure.
Our chef prepares dinners (on request) combining modern techniques with traditional principles to create 3 course dinners (4- or more course is possible) which you can combine with our select wine list to offer an experience to savour.
Dinners are on request only and need to be booked 72 hours in advance, but please check if there are any dinners already planned during your stay. We would love to have you for dinner too.
Bistro style light meals between 18h00 - 20h00:
When there are no planned 3-course dinners, our Bistro offers a small la carte Menu with for example Steak, Indonesian Style Chicken Skewer and Fish & Calamari, all served with salad and fries.
We also offer a range of Homemade Soups and a choice of several different Platters.