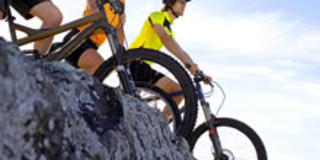 Mountain Biking
The Magnificent Mountains and hills surrounding Stellenbosch offer unequalled opportunities for mountain biking.
If you want to exchange the tarmac for a more rugged trail, swooping downhill and winding tracks then the Western Cape has more than enough mountain bike trails for you.
Around the corner from WedgeView, MTB Bottelary Hills part of the Bottelary Hills Renosterveld Conservancy (BHRC) offers some great Mountain biking trails. The closest official starting point from WedgeView is Overgaauw Wine Estate.
Bikes 'n Wines offers a range of Wine Tours on Mountain bike and the starting point is located approx. 2 km from WedgeView. Some Tour examples can be found below. The Mountain Bikes are included and you got the option of upgrading to an E-bike. Please don't hesitate to contact us if you'd like us to make a booking.
STELLENBOSCH HALF DAY WINELANDS CYCLE TOUR
Not everyone has the luxury of endless time on holiday, which is why the Stellenbosch Half Day Tour was introduced. Despite being shorter, the four-hour tour still manages to pack in a memorable cycling experience by steering you through scenic vineyards on private wine farms, stopping off for two wine tastings en route.
STELLENBOSCH FAMILY TOUR
Travelling with the whole family, but still keen to visit the winelands? The Stellenbosch Family Tour is perfect for you. This gentle, six-hour tour is accessible to all ages and fitness levels, plus it has loads of child-friendly activities. Kids are entertained with their own exciting pairings, while the parents get to soak in the sights and of course, sample some local wines. It's a win-win for all! Children 6 & over pay full price, as they receive a full tasting and pairing schedule, of non-alcoholic drinks and snacks
STELLENBOSCH VINEYARD MEANDER ©
Slow down and smell the roses on our Vineyard Meander, a relaxed, six-hour cycle tour through three picturesque wine estates in the Stellenbosch wine region. Take in the peaceful ambience of the vineyards and the breathtaking views of the Helderberg Moutains while you enjoy this gentle ride through the estates, stopping along the way for lunch, a la carte style, at one of the three farms.